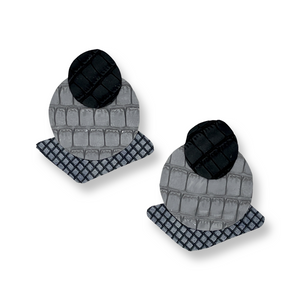 a three piece grey, blue and black geo shaped earring of crocodile print. approximately 3 inches in length. with stud post.
*eligible for clip on. 
Brazzaville is the capital and largest city of the Republic of the Congo. The city has over 2.3 million residents and serves as the country's financial and administrative center. Because of its location along the Congo River, Brazzaville grew as an industrial, trading, and port settlement. In 2013, Brazzaville was designated as a City of Music by UNESCO.