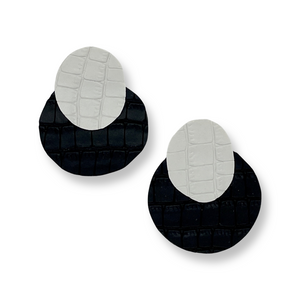 a black faux leather crocodile print circle approximately 2 inches in diameter with an elongated oval white crocodile printed piece atop. with stud post.
*eligible for clip on. 
The capital of Chad is N'Djamena. N'Djamena is also the country's largest city, with a population of about 1.4 million. N'Djamena means "place of rest" in Arabic. The city is a regional market for livestock, salt, dates, and grains. Additionally, meat, fish, and cotton are the chief industries in the city.